Press photos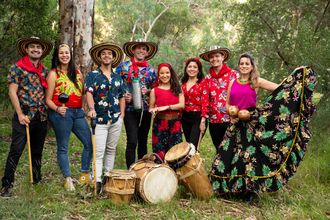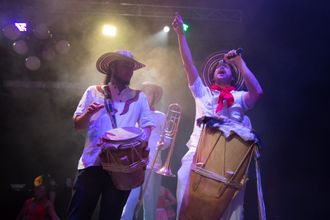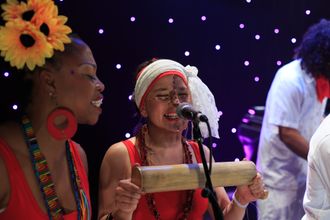 Press / Reviews
"Their music reflects Australian pluricultural society where world rhythms fuse with rock,  pop and electronic sounds. Their performances combine colour, upbeat tropical rhythms, 
psychedelic guitars and synths and exotic sounds bringing a feast for ears and eyes." 
Felix Riebl, The Cat Empire
"Jorge is a great musician and collaborator. His musical style is vibrant and as part of his 
practice he is in constant dialogue with international musicians of varied genres. Jorge is 
interested in collaboration with diverse musicians and cultures, and this impacts the work of 
La Descarga. " 
Fiona Winning Director Programming Sydney Opera House
"La Descarga and The Electropical Orchestra bring an exquisite, colourful and exotic blend of traditional and contemporary Colombian tropical music and dance. Their performances deliver a colourful and joyous feast for eyes and ears. If you get the chance, check them out! Dancing guaranteed." 
Urban Art Games, urbanartgames.com
"Melbourne-based La Descarga & the Electropical Orchestra skilfully blend traditional Colombian coastal sounds with psychedelia and dub to create something completely fresh that is both danceable and delightful. I dare you to sit still while listening to their music. It won't happen! You can't resist to dance to the grooves of their exotic pacific and caribbean grooves" 
Emma Peel, PBS FM, Reservoir Stomp
"Their recognition Australia wide in the Latinx scene, their regular full-house performances, and single releases are a testament to this evolution. They have contributed enormously to music in Multicultural Australia." 
Jill Morgan AM 
Deputy Chair 
Board of Directors ECCV & FECCA Associate Researcher Moondani Balluk VU Board Member 
Australian Art Orchestra
"La Descarga & The Electropical Orchestra is a unique, fun, vibrant and engaging Melbourne based band characterised by the excellency of its artists and performances. La Descarga is versatile and always up to embark in new commissioned community festival projects and ideas, such as educational workshops, Caribbean inspired street and beach parades, opening performances with special twists and on-line activities, to mention a few. A performance not to be missed"
Carolina Aguilera de Snow, Ventana Frankston Festival 
"La Descarga is rhythmic exchange, the convergence of cultures through music."
Samson McDougall, The Music 
"La Descarga celebrates the universal history of travelling cultures, fusions and Melbourne's own mix of converging sounds and traditions."
Jess Fairfax, Easey